In August 2021, the National Gas Company of Trinidad and Tobago Limited (NGC) signed an Engineering, Procurement and Construction (EPC) contract for the supply of natural gas pipeline infrastructure for e TecK's Factory Road Industrial Park (FRIP) to leverage NGC's technical capability and experience with pipeline infrastructure.
Completed in May and commissioned in June, 2022, future tenants of Factory Road Industrial Park will  receive a steady supply of gas to fuel their operations along with an accompanying regulator and metering station. Additionally, the anticipated tenants will utilise clean energy via NGC's natural gas supply thereby reducing T&T's carbon footprint and reliance on diesel or electricity as a power source in support of the country's COP 21 commitments.
e TecK has invested 100% of the cost for the EPC arrangement and will pursue and manage the tenants for FRIP on a phased basis.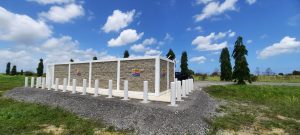 NGC's wealth of experience in the construction of pipeline infrastructure and as the aggregator of natural gas in the local energy sector, augured well for the scope of the project and was a natural fit with NGC's expanded business model to invigorate local activity.
Mr. Daniel Duncan, Vice President, Projects & Facilities at e Teck outlined the scope of works which were completed at e TecK's Factory Road Industrial Park.
"NGC successfully designed, constructed and commissioned a 1.72 km of 4 inch pipeline from NGC's main 16 inch distribution pipeline to the Factory Road site and a new 4 inch pressure regulator station and metering facility for the entire site. In addition, a new metering station was fabricated for e TecK's second tenant at the site. This metering station will be fully commissioned by NGC and the tenant when the tenant's complex/facility is developed," he explained.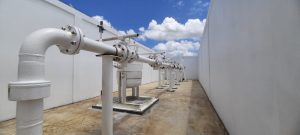 The Hon. Colm Imbert, Minister of Finance in his 2023 Budget Statement delivered on Monday 26th September, 2022 also gave due mention of the natural gas infrastructure completed at the site of the Factory Road Industrial Park. Noting that our economic development plans must take care of both the oil and non-oil sectors to maintain our revenue and growth, he listed this project as part of government's upstream projects primarily gas projects, which came on stream in 2021 and brightened our production prospects.
Encouraging innovation, entrepreneurship, and diversification, the 65-acre park located at Factory Road, Chaguanas has an estimated 12 lots and will have a peak load of 1,014 million metric British thermal units (mmBtu) of gas per day. The park will facilitate targeted businesses operating in light manufacturing and training, logistics and distribution of food items, food processing, warehousing and distribution. These sectors are expected to be a catalyst for growth in Foreign Direct Investment (FDI) and employment opportunities.
It is anticipated that the park will contribute to the expansion of the local business sector, drive further economic growth, create additional employment opportunities and intensify the thrust for diversification.