Both Local and International visitors and tourists can now enjoy an enhanced experience during their stay at the Trinidad Hilton and Conference Centre with the recent upgrade of its pool and pool deck facility. Evolving TecKnologies and Enterprise Development Company Limited (e TecK) is responsible for the managing the lease operatorship of Trinidad Hilton and Conference Centre and executed the upgrade works to the pool and pool deck which began in July 2017 and ended in December 2017.
During a tour of the new facility on Monday 29 January, 2018, Senator the Honourable Paula Gopee-Scoon, Minister of Trade and Industry expressed satisfaction with the project outcome which was completed on time and within budget. She said "The work done has resulted in an aesthetically pleasing and welcoming space with technological systems employed to improve the user's experience and safety. Given that the establishment is 53-years old, it is important that the Government reinvests to ensure the maintenance of international standards and increase the hotel's value and marketability".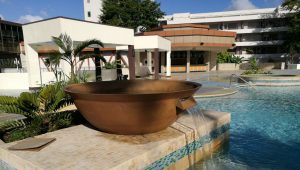 Mr. Imtiaz Ahamad, Chairman, e TecK, indicated that the refurbishment was long overdue and is a welcomed change which impacts positively on the Trinidad Hilton and Conference Centre. Ms. Darlene McDonald, Director of Marketing of the Trinidad Hilton and Conference Centre, thanked the Ministry of Trade and Industry for the investment into the hotel's upgraded amenity adding that there were a number of improvement projects in the pipeline.
The works included a raised Jacuzzi, an adult tanning ledge and a children's pool, three cabanas, a water fountain with LED lights, upgraded mechanical, electrical and plumbing services and equipment, a new audio system, a salt water treatment system and a new reinforced fibre concrete pool deck patterned in the form of a steel pan mural.